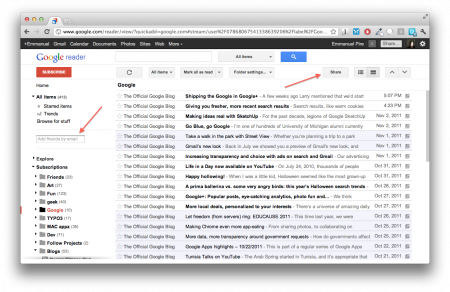 The morning Google actually made the switch to the new UI and +1 feature, I had the whole day free. Thank God for that ! I quickly went through the sharing options and found out the ugly truth: no more sharing. I just couldn't live with it and I knew how to recreate it, and so did I.
- Get the plugin -
The word "share" is everywhere now, but gReader's share had something else. It was not a social share as those guys at Google and Facebook seem to understand it now. It was an open sharing. You did not need to log into some fancy social network with tons of options, where "friends" would be waiting for you to talk in real-time and everything… It was like.. more peaceful. But now they want you on their network. They don't want you to use standard and open ways to share stuff. I think they're wrong, and it seems I'm not the only one.
My point in making this plugin is that the share feature should be OPEN and STANDARD. I'm willing to gather a community and define a standard way to share items (anything) via bookmarklet or even a new sharing button in ALL reader apps ! Just like you can tweet any link, you could share any feed item.
Seeing such a terrible update on one of my favorite webapp, I got mad. I spent the whole day coding the damn feature. Short note on the dev part, I insert script tags in gReader's DOM and use JSONP to talk to lipsumarium.com's server. And it just worked ! Now the hardest part is coming…
How to tell millions of deceived gReader users the battle is not over ? That we can work together, without Google, to actually have an open way to share, keep using gReader and have friend lists. I'm working hard on Twitter to get the word out. It is crucial that gReader users know about it. So if you can help spreading the news, please do.
Google made a very bad choice here. That's not how the web should be (notice usually *they* say that), thats why I made it and will continue to enhance it. I host it on lipsumarium.com but somehow temporarily, as if the project get tons of users I'll need to scale the thing up. But I deeply believe that if a community grows around this project, I'll find great people to help me with this. I'm not willing to build this project on my own, it should be community driven. The share spirit, well, you got it.
So try it, report any bugs or weirdness and share your ideas for a better sharing web.